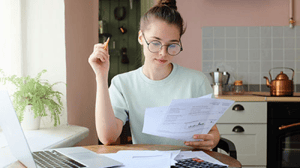 Whether you're starting up, expanding, or need a quick injection of cash, a small-business loan can be a lifesaver and a dream-maker. Given the gravity of what a loan can do for your business, it should come as no surprise the process of securing one takes a careful, intelligent approach. If you know what lenders are looking for and how to deliver, you can boost your business easily and with as little stress as possible.
Put everything into your business plan
When applying for a small-business loan, you'll need to present several key documents. None of these may be more important than your business plan, which shows lenders your pathway to success and your vision for getting to the finish line.
According to the United States Small Business Administration, an effective business plan will project the next three to five years of your business. The SBA notes you have two basic formats to consider: a traditional plan, which can be dozens of pages long, and a lean startup plan that typically covers one page and takes as little as an hour to complete. Entrepreneur Leadership Network writer Anna Johansson says there's simply no such thing as overpreparation, so the traditional plan is generally the best choice.
A traditional business plan contains nine elements: an executive summary, company description, market analysis, outline of organization and management structure, description of your products or services, marketing and sales strategies, outline of funding required, financial projections, and an appendix. This may sound exhaustive, but every component of your plan is crucial and should receive due focus. Fortunately, there are several examples of successful business plans online, so you have a baseline to start from if you're at a loss for how to make your plan stand out.
Reconcile with your credit history
You keep your finances separate from your business, but as Johansson notes, lenders will not see it that way when considering you for a loan. If you have bad personal credit, your likelihood of getting a loan for your business suffers.
Steve Nicastro and Jackie Veling, writing for NerdWallet, suggest starting by checking up on your credit report. You can get a free annual credit report from Equifax, Experian, and TransUnion by visiting AnnualCreditReport.com. Most credit card providers and personal finance websites also provide less detailed reports as a service for customers. Checking your credit report allows you to find irregularities that might suggest your identity has been compromised and deal with them accordingly.
According to finance specialist Suzanne Darden, financial institutions prefer borrowers seeking small-business loans have a credit score of at least 680. Johansson suggests that threshold is as high as 720, but the true number ultimately depends on several factors. To give yourself ample cushion, make an effort to boost your score to a satisfactory number before applying for your loan.
Johansson notes there are five key factors that make up your credit score: payment history, total credit utilization, credit age, account mix, and credit inquiries. As payment history and utilization make up nearly two-thirds of your score, you can see a major impact right away by making timely payments and paying down or paying off open lines of credit.
Don't take the loan application process lightly. When you're considering getting a loan for your small business, turn to a trusted financial expert and empower yourself with the right tools. With the proper knowledge, you can submit your loan application confident that you'll come away with what your business needs to succeed.