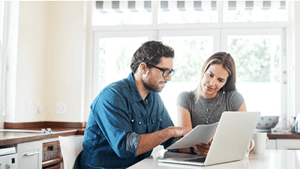 Consolidation is a common and proven debt management strategy. In short, it involves combining multiple debts into a single payment, making your overall debt easier to handle. It may even reduce total debt via lower interest rates. However, consolidation is not always as simple as it seems — if it even works for your specific situation. Here are three important tips for anyone considering debt consolidation:
Change your habits
Consolidation is not a silver bullet for debt problems. For the strategy to work, you need to change the habits that led you to require debt management in the first place. According to certified financial planner Lara Lamb, the best way to do that is with a strong and realistic budget. "A realistic budget gives you enough to spend on things you value and you love," she says.
Your budget should, at the basic level, account for debt payments, retirement savings contributions and an emergency fund. Better yet, you should strive to anticipate infrequent or seasonal expenses, such as car registration fees and Christmas gift purchases.
Finally, it's important to leave some room in your budget for fun expenses. Lamb says if all you do is save money and never buy anything that makes you happy, you're more likely to end up splurging and going over budget.
Check your credit reports
Before you settle on a debt consolidation plan, get a credit report. Once a year, you can check your credit report with all three major credit bureaus (Equifax, Experian and TransUnion) for free. This can be helpful not only to be more informed when it's time to decide on a plan, but also to look for any errors. Christine DiGangi, personal finance writer, says an error on any of your credit reports "could prevent you from qualifying for the debt consolidation help you need." Unfortunately, such errors are common and over the course of years, they can potentially cost you thousands of dollars in higher interest rates. If you find an error in your credit report, dispute it. Clearing errors will not only help you qualify for debt consolidation, but also give you access to lower interest rates.
Learn your options
There are multiple ways to consolidate debt. Amrita Jayakumar of NerdWallet suggests if you have good credit, you may consider transferring high-interest credit card balances to a single card with a lower APR. Another option is to take out a personal debt consolidation loan, giving you a concrete plan (usually three to five years) for paying off your old debt. Both of these types of loans are unsecured, meaning they require no collateral on your part. Instead, your creditworthiness is taken as an indication that you will be able to repay.
If your credit is not good, you may instead need to get a secured loan. This requires you to put up collateral, such as a car or a home. These loans tend to give you more borrowing power and lower interest rates, but also put your property at risk if you fail to make your payments. This makes budgeting and borrowing only as much as you need of paramount importance.
Ultimately, the best way to consolidate debt, and whether it will even work for you at all, depends on your unique financial situation. To explore the best options for you, consult a debt expert at your local financial institution.