I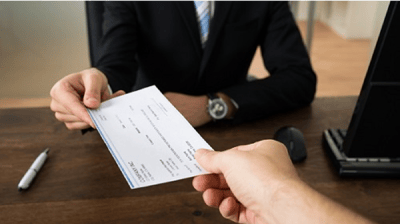 f you're strapped for cash, it may be tempting to borrow money from any lender that seems to be peddling a good deal. Whether they're promising great rates, no credit checks, or practically free money, it's important to remember that some offers are too good to be true. Here are a few common signs that you may be dealing with an unscrupulous lender:
Lax approval processes
A weak or non-existent approval process is a major red flag that you're looking at a loan scam. According to Bankrate contributor Allison Martin, if the lender is promising money to anyone — regardless of credit history — you should be on guard. Furthermore, if the lender approaches you with an unsolicited offer for a loan, it's a strong sign of a scam. This is because lending money involves a degree of risk. Any lender that claims to be giving away money for free has another mechanism in place to profit from making that loan, such as high interest rates and a host of hidden fees.
Requests for information
Scammers are always itching to steal your personal information, and a loan scam can serve as bait for desperate borrowers. Forbes contributors Hardika Shah and Armaan Joshi warn scammers may try to obtain your financial account credentials or other sensitive information in a phone call, email, or text. Trustworthy lenders will not ask for this information via unsecured lines. If you're being asked to input your information on a website, ensure that the URL actually links to the financial institution's official website, and that the site is a secured HTTPS address, not an HTTP domain.
Unusual fees and payment methods
Although legitimate lenders will charge fees for processing your loan application and credit check, shady loan scams will try to squeeze money out of you at every turn. Scammers, on the other hand, may demand a fee before you're even allowed to access the funds you just borrowed. Martin explains these bad lenders will often request payment in the form of a gift card or prepaid card. A trustworthy financial institution won't make you jump through these hoops.
Do your homework
A little research can go a long way when it comes to safeguarding your finances. Before accepting a lender's offer, check out consumer reviews to see how other borrowers have fared. Be sure to read up on what negative reviews say about the lender. Furthermore, seek out the fine print on the lender's website to familiarize yourself with the terms and conditions of their offer. If the fine print is vague about your rights, interest rates, fees, repayment terms, and penalties, it's a major red flag, according to Shah and Joshi. These hard-to-understand rules aren't written to work in your favor, and can leave you financially burdened.
When borrowing money, it's always smart to be confident in your lender. Since scams can be difficult to recover from, only trust reputable financial institutions with your hard-earned cash.