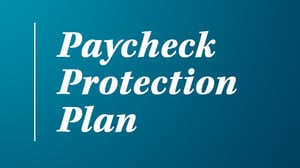 Honored. Dedicated. Proud.
Those are just a few words that describe how our teams felt as they focused on processing, uploading, and funding loans from the SBA's Paycheck Protection Program (PPP) for over two weeks. During the first round of PPP funds, over 1,000 small businesses secured $140 million through First Federal. That means roughly 10,000 families continued receiving paychecks.
The SBA's Paycheck Protection Program authorized up to $349 billion in forgivable loans to small businesses to pay their employees during the COVID-19 crisis. Funds from the loans are primarily to be used to cover payroll costs, however some of the funds can be used for mortgage, rent, or utility payments.
First Federal employees worked around the clock to help their small business customers receive money from this program. Lauri Adams, Managing Director at Multi-Specialty Research Associates, shared what this truly means for her and her employees:
"I wanted to take this opportunity to sincerely thank you and your staff for all of your efforts in assisting us with the PPP Program," said Adams. "I cannot thank you enough for the joy and relief you have provided our employees. I am sincerely grateful to each of you for all the time and personal concern you have shown us in ensuring we were able to provide this to our staff."
Non-profit agencies also needed funds to continue serving their communities. Now more than ever, people are relying on services from non-profits to help keep food on the table.
Mona Gil de Gibaja, President & CEO of United Way of North Central Florida, expressed her deepest gratitude when her loan was funded. "We are so fortunate to have you as our banking partner and are appreciative of all the time and effort that went into making sure we were able to submit our application so quickly."
Gigi Register, Senior Commercial Lender, said this was the driving force behind processing the loans as quickly as possible. "It is truly inspiring to see how many lives are directly affected by the funds from these loans. To know that we're playing a role in making sure these families still have an income to pay bills and buy groceries is humbling."
Understanding how much these loans meant to our customers and their employees is what motivated First Federal. We are honored and proud to be able to assist you!