Honored. Dedicated. Proud.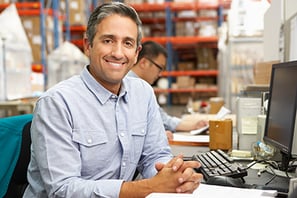 Just a few words to describe how our teams are feeling as they've focused on processing, uploading, and funding loans from the SBA's Paycheck Protection Program (PPP) for over two weeks in April. During the first round of PPP funds, over 1,200 small businesses secured $200 million through SBA Works. That means roughly 10,000 families continued receiving paychecks.
The initial stage of SBA's Paycheck Protection Program authorized up to $349 billion in forgivable loans to small businesses to pay their employees during the COVID-19 crisis. Funds from the loans are to primarily be used to cover payroll costs, however some of the funds can be used for mortgage, rent, or utility payments. At the end of April, the PPP received another $310 billion in funding after the first allotment ran out and many small businesses still needed assistance.
First Federal and SBA Works employees worked around the clock to help their small business customers receive money from this program. Knowing how much these loans meant to their customers and their employees is what motivated SBA Works employees during the long hours.
One small business shared what this truly means for them and their employees.
Sam Burnett, Owner of Green & Clean Property Solutions in Ft. Myers, said, "Over the course of our 11 year company history, we have never once had to furlough staff. Obtaining this loan was absolutely essential in helping us to avoid mass layoffs, and retain all of our 100+ employees. So I want to thank you, not just on behalf of the owners of Green & Clean, but more importantly, on behalf of every single one of our employees. To put it simply, you helped keep food on the table for some of our most vulnerable members of society by guiding us through this process, and doing it quickly."
Tom Maiale, SBA & USDA Lender, said this was the driving force behind processing the loans as quickly as possible. "It is truly inspiring to see how many lives are directly affected by the funds from these loans. To know that we're playing a role in making sure these businesses can pay their bills and families still have an income, is humbling."
Another small business in Alachua, Hydrosphere Research, expressed how grateful they were to First Federal and SBA Works, as their local bank was not processing SBA loans. After another hiccup with some filing errors at the SBA, Craig Watts, President at Hydrosphere, had nothing but praise for Johann Schnell, SBA & USDA Lender, and the First Federal team.
"I wanted to take a minute to thank Johann Schnell of First Federal Bank for all his help with Hydrosphere securing a PPP loan," said Craig Watts. "Our initial application was rejected due to a social security number being erroneously tied to another SBA loan. Johann worked with the SBA to clear up [the issue] and to get our application through. The truly amazing part of this is that Johann is not our regular banker. I doubt any other banker would have worked as hard to get our application through. There is no question that Johann helped keep our staff employed throughout the COVID-19 crisis."
Through these historic times, we at First Federal and SBA Works are committed to serving our small businesses as best we can. We understand the burdens facing small business owners right now, and are honored to be able to provide some semblance of relief. We stand with you and support you – we're all in this together.