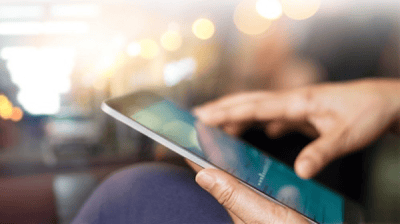 These days, more and more people are doing the bulk of their shopping online. This can put your payment information at risk, but knowing how to shop smart can help keep you protected every time you pull the trigger on a purchase.
Know the basics
Before you even think about filling out a form with your payment info, you need to know a few important things about shopping online. As NerdWallet's Melissa Lamberena points out, priority one is to make sure you're using a private device like a laptop, tablet, or smartphone that only you use. Unless absolutely necessary, avoid making purchases on public computers at places like a library. Not only can they store your information, but you can't be positive that they're not vulnerable to spyware unlike your well-maintained personal devices.
In addition, you should always avoid shopping online over public Wi-Fi. Even if you're at a coffee shop with a passcode, other users on the network can easily gain access to your information, putting you at risk for credit card fraud. Lamberena recommends investing in a virtual private network, or VPN, if you tend to use public Wi-Fi a lot or even just for an added layer of protection.
The merchants you shop with are just as important as your device and connection. If you're buying from a less reputable or well-known website, Lamberena recommends doing some legwork to see if there are customer reviews available or if they're listed on the Better Business Bureau website.
You should also avoid navigating to merchant websites via hyperlinks on social media or in emails — navigate directly to the website through your browser. While you're there, be sure that the website is certified safe by looking for the lock symbol in the URL bar.
Use the right method
Some shoppers prefer not to use credit cards for purchases to avoid overspending and racking up interest. But if you do a lot of shopping online, a credit card is a better choice than paying with debit.
Bankrate contributor Holly D. Johnson calls credit cards the easiest and most secure payment method for online shopping. If someone should get a hold of your credit card information and make a fraudulent purchase, your card provider likely offers zero liability protection. And if they don't, the Fair Credit Billing Act stipulates that you will only be liable for up to $50 of purchases.
On the flip side, if you use debit cards, fraud protection is more limited and most be reported quickly. And because your debit card is linked to an account containing actual money, you could also be on the hook for overdraft and account maintenance fees. First Federal offers real-time alerts to track all of your account activity so you can immediately identify anything suspicious. Login today to setup your SecureAlerts or learn more about our online banking benefits.
Your credit card provider also offers handy tools to help protect you against fraudulent use. Lamberena notes this includes two-factor authentication, which will likely alert you to someone attempting to use your card by sending a confirmation code to your text or email. Card providers also offer the ability to set up alerts any time a purchase is made with your card when the physical card is not present.
If you make purchases online, you may be given the option to store your credit card information for future purchases. Avoid doing this unless you feel comfortable with the safety and security of a merchant and also be aware that data breaches can put this information at risk. If you choose to store credit card information, be cognizant of where that information is kept.
Shopping online is safer than ever, but thieves and hackers can easily surpass layers of protection if you aren't smart with your information. Be on top of your financial info and take proactive steps to keep your money and identity safe.