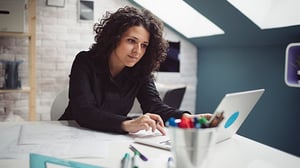 Obtaining the proper insurance coverage is one of the most important steps you can take to ensure the success of your small business. No matter what products you sell or services you provide, carefully assess all the risks your business might face and consider purchasing these key policies to preserve your peace of mind — and your profits.
Liability insurance
Liability insurance is essential for your small business's financial security. Start by getting general liability insurance. Writing for Bplans, financial consultant Maxine Rieman notes that this type of coverage helps cover claims, lawsuits and legal costs resulting from injuries and property damage that take place at your business. It also applies to cases of libel and slander.
Does your business make, distribute or sell products? According to entrepreneur Mike Kappel of AllBusiness, you should consider product liability insurance as well. This insurance can protect your business if you sell a defective, injury-causing product. If your business provides services, Kappel also recommends professional liability insurance, a type of coverage that provides protection for any errors, negligence, malpractice and claims from unhappy customers.
Commercial property insurance
Commercial property insurance is a must for safeguarding your small business in a wide variety of situations. The Small Business Administration points out that this type of insurance will cover damaged or lost property and physical assets if your business is vandalized, robbed or hit by a fire or storm. Per Kappel, commercial property insurance may also cover financial losses stemming from the damage. It's important to note, however, that you'll need additional coverage for flood or earthquake losses.
Home-based business insurance
If you operate your small business out of your own residence, you'll want to obtain home-based business insurance. According to the SBA, this type of coverage can typically be added to your homeowner's insurance policy. It's designed to cover property losses and liability claims related to your business operations.
Cyber insurance
In today's connected world, cyber insurance provides an important way to protect your small business in the wake of an online attack. In an article for NBC News, Jean Chatzky writes that this threat is especially acute for small businesses, which suffered 61 percent of all cyber intrusions in 2017. Depending on your needs, you can purchase insurance that protects you from financial losses caused by hacking, provides crisis management and covers claims and liabilities in the event of a customer data breach.
Workers' compensation insurance
If your small business has employees, you'll most likely need to get workers' compensation insurance for them. This insurance covers lost wages and medical costs for employees if they get hurt or sick on the job. It also shields your business from liability for employee injuries. Rieman writes that requirements for workers' compensation insurance can vary by state, so inform yourself about the laws that apply to your business.
Business owner's policy
You'll likely need to buy multiple types of insurance for your small business, but you may not need to purchase them all separately. The SBA notes that some insurers gather several different types of coverage into a single business owner's policy, which makes getting the insurance you need both simpler and cheaper.
You've worked hard to establish your small business. Don't leave its wellbeing up to chance — consult with a reliable insurance agent to secure the coverage that best meets your needs and protects what you've built.