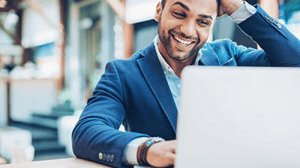 With more companies taking their business online due to the pandemic, it's likely your business will need to hold video calls with clients. Much like other forms of communication, video calls have certain etiquette rules — and your ability to follow them can make or break your professional image in the eyes of your clients. Here are some tips to help you and your team make a strong, positive impression during your video meetings.
Check your connection
While you can't always control your Internet connection's speed and stability, it's a good idea to give your tech a test run before your video call goes live. Join the meeting early or stage a test meeting to make sure your microphone transmits your voice clearly, your video isn't lagging, and that the screen-sharing feature works as expected, advises Sara Santos of the IMPACT consultative agency. It's also a good idea to restart your computer prior to the meeting, just to make sure it's up to speed when the call begins.
Manage your microphone
When participating in video calls and online meetings, Bryan Lovgren of TrustaFact tells Entrepreneur it's essential to know when you should mute your microphone. Even when you aren't speaking, your microphone will pick up background noises — it'll catch your breathing, your family bustling around the house and the keystrokes from your typing. Spare your clients and demonstrate your professionalism by muting your microphone when you aren't speaking. Just be sure to switch it back on when it's time to speak or present information. To make sure your audience can hear you, casually introduce yourself — this should prompt your clients and teammates to greet you or wave, confirming they can hear you.
Pay attention to your participants
If you're hosting a larger video teleconference, it can be tough to keep track of everyone in the meeting. When you aren't speaking but feel the need to interject, be sure to use the communication software's "raise hand" feature instead of interrupting the person who is currently presenting. Avoid looking down at your phone or browsing the Internet when others are speaking, says Lovgren, and make eye contact with the camera – not your screen – as much as possible. If you're presenting, keep an eye on the participant list to make sure you're not overlooking someone who's clicked the "raise hand" button. Furthermore, find natural breaks in your presentation to pause and check to see if your clients have any questions or comments about the material.
Prepare your environment
To present a clean-cut, businesslike image, make sure your personal appearance and your surroundings are neat and tidy. Keep clutter out of the frame as much as possible, and the decor on the wall behind you should be appropriate for work. Santos suggests you dress professionally, the same as if you were meeting the client in person. And to make sure you're putting your best foot forward, check the angle of your camera and the lighting on your face before you host a meeting — harsh lighting and unflattering angles can make it seem like you overlook details in your work. For best results, keep your camera about level with your face, and keep your lighting source in front of you. Light from behind your head can make your image dark and blurry.
Smooth out the rough edges
A little professionalism can go a long way to impress your clients. Try to hold still during video meetings — excessive gesturing and bobbing around can be distracting to your viewers. To create a more engaging experience, look into your camera instead of staring at your screen. It's also a good idea to conduct your call in a closed room, away from distractions like chatting family members and barking dogs.
While video calls can present a unique set of challenges, you and your employees can easily present a professional image by taking a few of these steps. Consider discussing these tips with your management team and passing suggestions along to your staff.