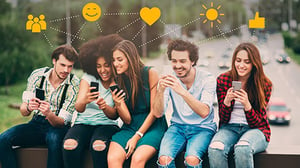 Whether you sell products, provide services or offer consultations, a well-managed social media presence can help you connect with potential clients. With skill, strategy and dedication, you can turn your followers into a source of income-generating leads. If you're looking to grow your reach, consider these tips for turning your company's social media pages into a more valuable resource.
Know your platform
Social media platforms have different strengths. By understanding the advantages of different platforms, you can better focus your efforts on running relevant marketing campaigns. Facebook boasts more than 2 billion active users every month, making it a perennial favorite for brick-and-mortar and online businesses alike. Its setup is ideal for fostering a relationship with your customers and gaining leads through paid advertisements and shared posts. Visually-oriented platforms, such as Instagram and Pinterest, are ideal for businesses that create eye-catching products. If you create tantalizing food, fashionable apparel or stunning art, these platforms might be right for you. Just be sure to include links to your shop or website on every post. Twitter is also great for engaging with your audience, as well as making limited-time offers and announcements, such as the location of your food truck or festival booth. If your business offers advisement or services to other professionals, you may have more success networking with LinkedIn.
Target your marketing
Before rolling out a social media marketing campaign, it's a good idea to know some basic facts about your ideal customer. Identify where your target audience lives, how old they are, how much they earn and other basic demographic insights. Although it sounds counterintuitive to narrow your audience, according to social media marketing expert Florian Sussbauer, this targeted approach can generate higher-quality leads. He recommends exploring Facebook's many marketing tools, such as custom audiences, which help you target your ads based on factors like hobbies and type of employment. If your company's social media is relevant and helpful to your audience, they may be more inclined to sign up for your company newsletter or purchase your products regularly.
Be consistent
Once you've established a social media presence, don't let those leads slip away — post quality content on a regular schedule to keep your audience engaged. If your account is inactive, your potential customers may simply forget about your company, or think you've gone out of business. That said, posting too frequently can make your audience feel like they're being spammed. According to the Digital Marketing Institute, business pages on Facebook and LinkedIn shouldn't post more than once daily, while Twitter pages can get away with posting many times a day — the more, the better. Stay on track by creating a post calendar, so you can plan what kind of original and curated content you broadcast to your audience.
An engaged audience is great, but your business needs to turn a profit. Turn your readers into leads by collecting their contact information. There are plenty of ways to do this. For instance, you can run a promotion where the customer can receive a download, discount or raffle entry in exchange for their contact information. You can then use this contact information to notify your customers of future sales and promotions. However, entrepreneur and marketing expert Alyssa Gregory warns that you should be aware of the marketing email regulations in the CAN-SPAM Act.
Before investing in a social media marketing campaign, consult with your management team and financial advisors. Together, you might be able to concoct a social media marketing strategy that will drive leads, boost sales and help your business grow.