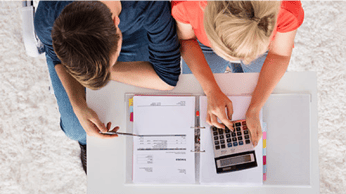 Setting spending limits and crunching numbers is not exactly a traditional recipe for family fun. But it is possible to make the process of creating, maintaining and benefiting from family budgets an enjoyable one. You and your family will find financial joy within the budgeting process with these tips:
Talk it through
Finances are a complicated subject. It's easy for budgets, bills and financial planning to be overwhelming for adults, let alone your younger family members. In order for your family to embrace a budget and all that goes along with it, every member needs a seat at the table.
"The activity of paying bills and planning purchases will bring the family together in meaningful ways," says Forbes contributor Neale Godfrey. "It gives your kids a sense of value of things, and of the very real problems of making ends meet."
Show them the money
Most budgets, bill paying, and financial planning systems live inside your computer which, although convenient, smart and organized, is a boring process and a somewhat abstract concept for kids to absorb. Although it's not possible or practical to abandon your online financial strategies, you can offer a more tangible and old-school method of financial planning to help engage your younger financial gurus.
Set out three containers, jars, banks or baskets. Mark one of the receptacles with the word save; one with spend; and the final with share, advises Investopedia writer Jean Folger. Use real money and coins to fill the containers each month so the whole family can see exactly how a budget works and where money needs to go. Folger recommends divvying up money according to set percentages. This is an especially beneficial method to help your tweens and teens balance their own allowances while earning real-life financial lessons.
Work toward family-fun goals
Budgets are designed to keep your present bills paid as well as plan for the future. If your family is only focusing on what they're giving up or not getting, there's no way your family budget will resemble anything but doom and gloom. Instead, include in your budget a goal that everyone can appreciate or look forward to using. Perhaps you can work toward a family-fun day at a local amusement park or even an extended getaway.
When planning for a vacation, Godfrey stresses the importance of involving everyone in the family on decisions from where to go and what to do to how money should be spent. A budget designed specifically for fun-in-the-sun or a first-time adventure is sure to keep your kids interested in your family's financial planning.
Give back as a family
Teaching your kids to give back is an important, life-long lesson, and dedicating a portion of your finances and time will help connect you to each other and to the community. Godfrey notes deciding which charity to support as a family with time or money should require thoughtful research, just as if you were investigating a major purchase, vacation destination or gift for your home.
With open communication and an eye on future fun, you and your family can create a budget that supports your financial goals as well as serves as a fun, yet educational, bonding experience.