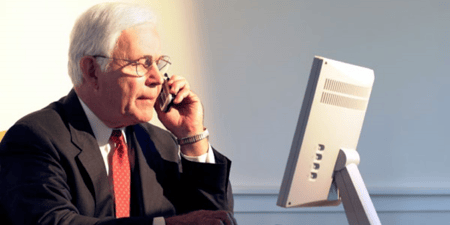 When a loved one dies, you're often left with several responsibilities to contend with on top of managing your grief. One such responsibility is taking care of the accounts belonging to the deceased. Fortunately, accessing and closing a bank account is a fairly straightforward process.

Obtaining the necessary information

According to Julia Kagan of Investopedia, your first step in this situation is to contact the decedent's financial institutions. If you're not immediately aware of the accounts that your loved one held, you'll need to obtain that information from their personal records.

Once you've identified which accounts the deceased had open, you'll need to reach out to those financial institutions to notify them of the account holder's death. Kagan writes this is commonly done by providing the decedent's name, their Social Security number, and a certified copy of their death certificate. In some cases, additional documentation may be required, including paperwork that would name you an executor of their estate.

It's also very likely these accounts are tied to bills, including utilities and internet. Equifax recommends notifying companies to whom the deceased had ongoing payments or debits. Turning off a cell phone line or disconnecting cable television may result in fees or the need for payment. The Balance Money contributor Brandon Renfro notes unpaid debts can only come from the decedent's estate. No living kin can be held responsible for debt unless their name is on the account. However, Renfro points out secured debts like an auto loan or mortgage can lead to repossession of the vehicle or home if there is a balance remaining.

You will also need to contact any financial institutions with which the deceased had an active credit card. Kagan notes this will result in a deceased alert, which appears on the decedent's credit card report and essentially freezes their credit cards.

Different account types and resolutions

This responsibility of accessing or closing an account will ultimately fall to you if you are legally considered next of kin. Investopedia contributor Troy Segal explains next of kin is the decedent's closest living relative by blood or legality, meaning it can be a spouse, children, or grandchildren depending on the circumstances. The next of kin is also responsible for other matters after a relative's death, including making funeral arrangements.

There are cases where the matter of next of kin is not relevant, including joint accounts or pay-on-death accounts. Per Kagan, a joint account holder simply takes sole ownership of the account after the co-holder's death. With a pay-on-death account, the decedent will have named a beneficiary of the account who receives the money after they die. Kagan also notes you can access a deceased account if you are a trustee. This status entails a fiduciary responsibility to act on behalf of the decedent's beneficiaries.

While some circumstances may make accessing an account simpler, it's not common that a bank will close a deceased account until the decedent's estate has gone through the process of probate. Per Investopedia contributor Rae Hartley Beck, probate can be avoided when there's a joint account holder, in some cases where there's a trust, and in the case of a simple estate with a payable-on-death account. Kagan notes this is to ensure that heirs and creditors are made whole as dictated by law. Once the estate has been settled, you will have the option to close the account as you see fit if you are deemed the rightful inheritor.

Dealing with the death of someone close to you is never easy, but the process of overseeing their final wishes doesn't have to be overly complicated. Working with an estate attorney or probate attorney can help streamline the process so that you can expend more energy focusing on your needs and the needs of your loved ones.