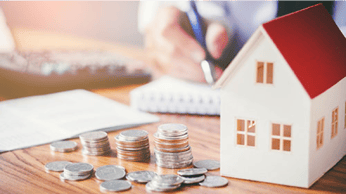 Are you planning a home renovation? Do you need to consolidate debt? If so, you might consider opening a home equity line of credit (HELOC) or applying for a home equity loan. They both use your home as collateral and can help you achieve your home or financial goals.
"Most home equity loans and HELOCs allow you to borrow up to 85 percent of the value of your home, minus your outstanding mortgage balance, and they typically have low interest rates and fair terms, since you're using your home as collateral for the loan," according to Bankrate writer Ellen Chang.
A HELOC and home equity loan may use the same source, your home's established equity, to determine eligibility, but they have key differences.
HELOC
Opening a HELOC works similarly to a credit card. With a HELOC, you will be approved for a preset amount of money, like the limit on a credit card, and you draw upon the money when necessary. There are two components to a HELOC — the draw period and repayment period. Funds are accessible during the draw period, while paying back what you borrowed is handled during the repayment portion. According to Investopedia writer Amy Fontinelle, your HELOC may offer a 10-year draw period and a 20-year repayment period. It's important to note, though, that during the draw period of your HELOC, you will have to make interest payments, which can fluctuate in amount, as the rates are variable. These are typically small but substantially increase once the draw period is over and the repayment period begins since you are now responsible for paying back the principal amount you borrowed plus interest, Fontinelleadds.
"HELOCs can be useful as a home improvement loan since they allow you the flexibility to borrow as much or as little as you need," according to Fontinelle. "If it turns out that you need more money, you can get it from your line of credit — assuming there's still availability — without having to re-apply for another mortgage loan."
Home Equity Loan
With a home equity loan, you will not be blindsided by a payment increase. A home equity loan features a fixed interest rate, a lump-sum equity draw, and a set time limit, acting like a second mortgage, according to NerdWallet writer Holden Lewis. This means what you pay month to month is the same, particularly useful if you need to stick to a strict budget. If you are planning major projects or need to cover a one-time expense, a home equity loan can be a great option, he adds.
"But remember: that home equity loan payment will be in addition to your usual mortgage payment," Lewis warns.
A potential downside with a home equity loan is if property values in your area dip, it can impact your loan, causing you to owe more on the loan than the appraised value of your home, according to Fontinelle. If you fail to pay the loan and it goes into default, you could lose your home, Fontinelle adds.
Before you choose a HELOC or a home equity loan, make sure you are clear on its purpose and your financial health. Either one can get you closer to you goals, but only if you are careful, realistic, and strategic with your money management.