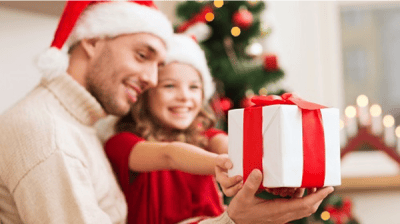 It's important you start coaching your children on the basics of financial responsibility early in their lives. Properly saving, spending, and investing money are crucial skills for all people to master — and the sooner you can teach them, the better!
Regardless of what age they are, your child can learn a lot from receiving a gift that encourages them to develop their financial competency. Even a low-priced gift can have valuable impact on their future by strengthening basic financial skills. Here are some ideas for your holiday shopping list for the kids in your life:
A place to store their cash
Learning good financial habits starts with knowing how to properly save and track your money. For children who are just starting to receive an allowance and possess physical currency, Money Talks News blogger Brandon Ballenger suggests giving them a place to store their money.
"There's the traditional ceramic piggy bank (which can be an arts project too, if you pick a plain one)," recommends Ballenger in a Business Insider article, "but also ATMs for kids, money mazes, and cash registers." Or, give your child the craft materials to make their own DIY savings box.
If your child is a teenager, they may be old enough to open a joint savings account with you. Give them some cash — or have them bring their own — and walk them through the steps of opening up a savings account to start depositing and withdrawing their money. You'll need to be a co-owner of the account if they are a minor, but that will allow you to monitor their habits and provide guidance.
Educational toys
Did you grow up playing with a toy cash register? Hands-on recreation and role-playing allow a child to familiarize themselves with money and practice basic concepts in tactile ways. The financial educators at Freedom Sprout recommend a variety of toys for children to practice money skills. These include sets of pretend money, a fake checkbook, and a toy cash register with a digital calculator on it. If your teenager is too old for such gifts, consider gifting them stock or opening a Roth IRA with them.
Money-themed games
Learning through play is an effective way to facilitate your child's understanding and application of basic financial principals. On her website Mombrite, STEM education expert Betty Boiron shares a list of 10 great board games she recommends to parents who want to teach their kids skills like currency denomination recognition, counting money, making transactions, and saving for large purchases.
Of course, there are time-honored titles like Monopoly or Pay Day, but you can find even better games made for children and teenagers that have been published in recent years. Some ones that Betty recommends are Exact Change, Buy It Right, Money Bags, and Big Money.
There are also more complex games for teenagers on the market that challenge children to apply critical thinking skills to fictitious investments, making decisions that reap the most lucrative benefits. The classic game Acquire is still a great option, in which players make money by buying stock in, merging, and expanding corporations.
Whatever you decide to buy your child — or give to a friend's or family member's child — make sure you spend quality time alongside them as they use your gift. Toys, games, and books are useful resources for imparting knowledge and honing skills, but they're not a substitute for attentive coaching and interactive instruction.