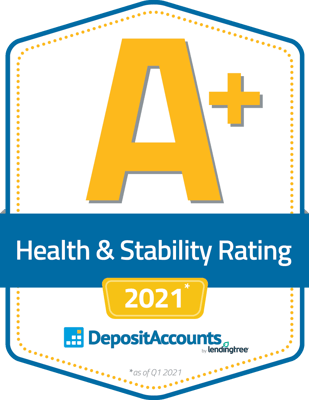 First Federal Bank customers want to feel confident their financial institution is on solid financial footing, and is proud to have been rewarded an A+ rating – the highest health grade given out by DepositAccounts.com – for the first quarter of 2021. Once per quarter, DepositAccounts.com evaluates the financial health of every federally-insured bank and credit union in the United States. Financial institutions are graded on a scale from F (worst) to A+ (healthiest).
First Federal Bank received A+ ratings in all the categories DepositAccounts.com tracks.
"First Federal Bank is an amazing bank, and we had a wonderful time transitioning to them from our previous bank," said Randi Pritchard of Forman Management Company Inc and Wealth & Estate Builders LLC, a First Federal customer. "When banking with one institution for a while, you think the transition will be a tedious process. First Federal Bank has some amazing people working for them, and they made the transition as smooth as possible. They are all there to help the customer; it is their number one priority! Thank you to all of the bankers over at First Federal Bank! And special thanks to Joanne for your amazing help!"
Financial Center Manager Joanne Edde worked with Ms. Pritchard to help her switch over her accounts to First Federal Bank. "Our process it to ask questions to gain an understanding of what the customer liked and didn't like about their previous banking relationship," she said. " We identify which of our products and services would be most beneficial to them, and do everything we can to make them feel welcome and appreciated. We are happy to serve our customers and provide best-in-class service."
DepositAccounts.com is the largest and most comprehensive online publication in the U.S. dedicated to banking and deposits product information for consumers. It covers every federally insured bank and credit union and utilizes its patented technology to track approximately 275,000 consumer deposit rates.
A comprehensive health score is calculated each quarter. Each institution is graded on several factors including capitalization, deposit growth, and loan-to-reserve ratios:
Capitalization
A quick, at-a-glance indicator of bank financial health is its available capital. You can figure available capital with a direct calculation of an institution's assets minus its liabilities. Stronger capital means that more assets are available to cover potential losses.
Deposit Growth
When people put money in a bank, it is an indicator of confidence. It also increases the money that a bank has on- hand and can help strengthen the balance sheet of the bank. A strong track record of stable growth is an indicator of consumer confidence and the bank's ability to strengthen its balance sheet. The opposite can be an indicator of a decline in confidence in the institution and, if pronounced and prolonged, can mean that the bank's ability to keep a strong balance sheet is in jeopardy.
Texas Ratio
Developed at RBC Capital Markets, the Texas Ratio is a relatively straightforward and effective way to determine the overall credit troubles experienced by financial institutions. It is determined by comparing the total value of at- risk loans to the total value of funds the bank has on-hand to cover these loans. At-risk loans are any loans that are more than 90 days past due and are not backed by the government. The amount of funds on-hand consists of the loan loss allowance that the bank has set aside plus any equity capital. You can also look at the trend in this Texas Ratio as an additional factor to tell if the bank's financial health is heading in the right direction.
First Federal Bank has a deeply-rooted foundation of strength, and we pride ourselves on offering a wide variety of first-class financial solutions. Continuity of leadership, coupled with our unique structure, have resulted in long-term perseverance and security.
As the only Florida-based community mutual bank, we are uniquely positioned for the future. Our organization's structure provides an adaptability and independence that enables us to be responsive to the needs of the customers and communities we serve. With our steady, forward-thinking leadership we are able to expertly and thoughtfully develop state-of-the-art solutions as the economic landscape continues to evolve.