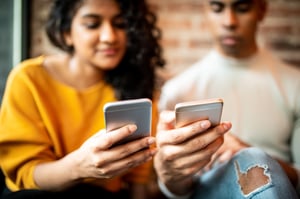 First Federal Bank is pleased to announced a new partnership with Zelle®, a simple, safe way to receive and send money. The Zelle Network® connects financial institutions of all sizes, enabling consumers and businesses to send fast digital payments to people they know and trust through their trusted banking app.
Zelle allow users to receive and send money via their mobile devices through a linked bank account. Payments can include anything from sharing the cost of dinner with friends, to splitting the rent with a roommate, to pitching in for a co-worker's baby shower gift. They are real time, can be initiated 27/7/365, are secure, and processed quickly.
"We pride ourselves on offering a wide variety of first-class financial solutions," says Stephanie McClendon, Chief of Retail Community Banking at First Federal Bank. "Partnering with Zelle enables us to offer convenient, quick, secure peer-to-peer payments to our customers through a proven provider, building upon First Federal's foundation of strength."
Real-time person-to-person (P2P) payments have been on the rise in the U.S. A 2018 Aite Group study showed 57%, or 144 million U.S. consumers made at least one P2P payment in 2017, and 67.7 million made at least one mobile P2P payment. And the market has continued to grow.
A September 2020 Consumer Payment Behaviors Report looked at the impact COVID-19 has had on consumers' financial and digital behaviors. Twenty percent of respondents reported they had started ­– or planned to start – using P2P services. In the first six months of 2020, $133 billion was sent through the Zelle Network, a total of 519 million transactions. Today, over 100 million people have access to Zelle directly through their banking app.
"Zelle has become an everyday essential for consumers who need to send and receive money fast," says Lou Anne Alexander, Chief Product Officer at Early Warning Services, LLC. "Consumers across all generations have embraced Zelle during these challenging times as a contact-free way to safely exchange money."
With Zelle, you can send money to someone you know easily and quickly. Your payment travels safely, offering peace of mind to you and your recipient. You are able receive payments securely via Zelle as well. Using the service through the First Federal mobile banking app will ensure the money is sent directly to the bank account you select when you enroll. Payments are sent using only an email address or U.S. mobile number, so sensitive account information remains safe. First Federal customers go here to get started.
First Federal continues to leverage our expertise and technology by expanding into new and emerging markets, diversifying our offerings, and strengthening our business. All while maintaining a sharp focus on meeting your needs.
Zelle and the Zelle related marks are wholly owned by Early Warning Services, LLC and are used herein under license.