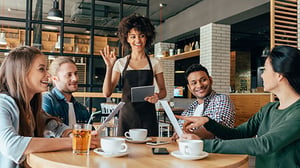 Whether you have an old family recipe that you feel should be shared with the world or want to try your hand in a growing industry, starting a restaurant is challenging yet rewarding experience. Setting aside the intricacies of creating menus and establishing your brand, you will need significant seed money—The Balance Small Business's Lorri Mealy estimates startup costs between $50,000 and $75,000 at minimum. There are several options out there that are easy to pursue and should set you up for success.
Venture capital
The Small Business Administration recommends venture capital as a means to raise funds for your growing business. If you see your restaurant as one with the potential for high growth, venture capitalists may want to take a look at your business plan. Find an angel investor or venture capital firm and give your best pitch; if they like what they hear, they'll offer to fund your restaurant enterprise for a share of ownership and a hands-on role in its future.
Business loans
Per the SBA, your best course for pursuing a small-business loan is to work up a business plan, expense sheet and five years' worth of financial projections. Regardless of your credit and history, this proof of concept and diligence will give you the chance to secure a loan and should help you obtain the best terms and rates available. Loans are not strictly limited to financing startup: You can pursue equipment financing for your kitchenware and appliances, short-term loans to cover repairs and upgrades, or a business line of credit to cover smaller needs.
Crowdfunding
Crowdfunding has become a reliable way for innovative businesses to raise funds by turning directly to customers. If you have a great concept or unique menu, you may well be able to fund your business with a well-realized campaign on a platform like Kickstarter or IndieGoGo. You can offer rewards and benefits for backers like lifetime discounts, merchandise or free meals, which can help create strong word-of-mouth that will guide you toward your funding goal. Though the success rate is lower with crowdfunding, so is the risk. If nothing else, it's a great option to consider as a supplement to your conventional funding methods.
Food truck
If you have your heart set on starting a restaurant, consider starting smaller and opening a food truck. Food trucks present the option to test your restaurant concept in a mobile platform that doesn't carry the same sizable startup costs and overhead as a brick-and-mortar location. While you'll need to pay for a vehicle, equipment and supplies, you may have better luck securing a loan or venture capital since you'll be asking for a smaller amount. What's more, if your food truck takes off, you can use that capital to fund a fixed location.
There is no shortage of options available to you if you want to open a restaurant of your own. Speak with your financial institution and learn what's available, then put yourself in a position to make the step from dream to reality.