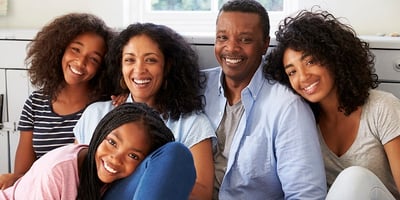 For many kids, their move to college is the first time they're leaving the nest and the day-to-day influence of their parents. If your child is college-bound, you're most likely equal parts proud and apprehensive about the changes they are about to experience. While your child is prepping college room essentials, potential areas of study, and connecting with roommates, it's important to review or introduce the following financial lessons before move-in day:

Using credit carefully for a sound financial future

If your teen doesn't already have a credit card, now is the time to introduce the concept. You can start slow and retain oversight by adding them as an authorized user on your credit card. This relationship allows you to teach your child how to responsibly use credit so they can start to build a good credit score, a tool that will serve them for years to come. Plus, it helps you monitor their spending and money management so they don't get into trouble.

"Help them understand the real-world consequences of bad credit, like higher insurance premiums and problems finding quality rental housing, surely a top-of-mind concern for kids looking ahead to independent living," advises Brian Martucci, writer for MoneyCrashers.com.

If your teen is ready for their own credit card, many financial institutions offer student credit card accounts with impressive benefits. In addition to cash-back rewards, some cards will reward your teen for focusing on their studies, he adds. "Encourage your kids to save their earned credit card rewards. That simple exercise can add up fast," notes Martucci.

Talk about the benefits of investing

Investing can be a way your teen can prepare for their future, and the sooner they start exploring the world of investments, the better. And, they can start small, with as little as $1, according to Obioha Okereke, writer for CollegeAve.com. Just make sure you explain investing isn't a get rich quick scheme.

"Before jumping in, guide your student that they need to do their research. There is no shortage of outlets and accounts providing investment tips and resources, so it's essential to reference multiple sources," he adds.

Encourage them to save

Saving as much as they can is still an important lesson to impart upon your teen. During the college years it can be tough to make ends meet, let alone put anything into a savings account — but every little bit counts. Creating good savings habits now will help your teen throughout their life as they work toward their personal, professional, and financial goals.

"Before they leave the nest, ensure your kids understand the three primary types of savings: personal savings, emergency funds, and retirement savings. Give them an overview of each type — what it's for, when to contribute, why it matters to their savings goals, and when to draw upon it," Martucci advises.

As your teen moves onto college, keep the dialogue about finances open. They are on the verge of becoming independent adults and finance management is complicated, challenging, and changes as they grow. From managing their own credit card to building up their score, paying bills on time and saving for a rainy day or big purchase, to investing in their future, they'll appreciate your guidance.