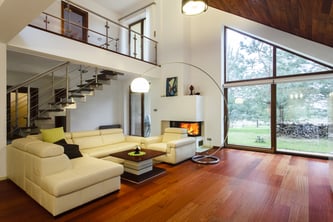 Every year in November, the Federal Housing Finance Agency (FHFA) updates the conforming loan limit. First Federal Bank is excited to announce the limit for 2022 has been raised to $647,200, a $98,950 increase over 2021.
"First Federal Bank was anticipating an increase in the conforming loan limit for 2022," said Paul Ottendorf, Division President, Residential Lending. "We are pleased the FHFA has raised the limit to match current trends in home prices, and are prepared to help our customers increase their buying power."
What is the conforming loan limit?
The conforming loan limit is the maximum loan amount for a mortgage the Federal National Mortgage Association (Fannie Mae) and the Federal Home Loan Mortgage Corp. (Freddie Mac) will guarantee or purchase. Fannie Mae and Freddie Mac are the principal market makers in mortgages. These government-sponsored entities drive the market for home loans in the U.S.
Fannie Mae and Freddie Mac set standardized guidelines single-family dwelling mortgages must meet to be eligible for the agencies' backing. They do not issue mortgages themselves; banks and other lenders count on the agencies to insure and purchase loans. The conforming loan limit acts as guidance for the mortgages these lenders offer their customers.
Mortgages exceeding the conforming loan limit are known as nonconforming - or jumbo- mortgages. These loans are considered riskier for lenders, because they can't be guaranteed by Fannie Mae and Freddie Mac, making them more difficult to obtain.
How is the conforming loan limit determined?
The Housing and Economic Recovery Act of 2008 (HERA) requires the conforming loan limit to be adjusted annually to reflect changes in the national average U.S. home price. The FHFA has regulatory oversight to ensure Fannie Mae and Freddie Mac fulfill their charter of promoting homeownership for lower-income and middle-class Americans.
The FHFA uses its House Price Index (HPI®) to determine the following year's loan limits. It is a broad assessment of the movement of single-family house prices, and the nation's only collection of public, freely-available house price indexes measuring changes in single-family home values based on data from all 50 states and over 400 American cities.
Each time home prices rise, the FHFA reacts by increasing mortgage limits. This helps the mortgage industry naturally fluctuate with the housing industry. An announcement is made every November for the following year's limit, which takes effect January 1.
What are the benefits for consumers?
There are many benefits to a conforming loan, including a lower total cost of borrowing and being able to work with favorable lenders. Conforming loans are often easier to qualify for, can have a lower mortgage interest rate, may accept a lower down payment, and can allow for some wiggle room for the credit score needed to buy a home. Because this type of loan is insured by Fannie Mae and Freddie Mac and can be sold in the secondary mortgage market, more banks and lending companies are willing to work with consumers who apply for them.
Mortgages which meet all the requirements of Fannie Mae and Freddie Mac are known as conforming loans. When the conforming loan limit increases, you can apply for a larger mortgage, while enjoying all the benefits of a conforming loan. Guidelines that must be met, in addition to the conforming loan limit, include the borrower's loan-to-value ratio, debt-to-income ratio, credit score and history, and certain documentation requirements.
Conforming loans through Fannie Mae and Freddie Mac are not limited to primary residences. If you're in the market for a second home or investment property, you may be able to take out a conforming loan.
When should I begin the application process if I plan to buy a home in 2022?
To find out if a conforming loan is right for you, contact an FFB loan officer today. If you will be closing on your new home after January 2, 2022, the time to begin the process is now!

Equal Housing Lender