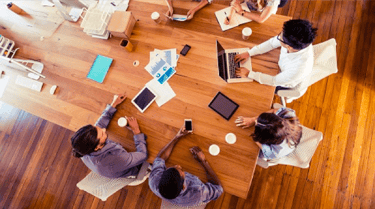 The pandemic isn't over yet, but the widespread rollout of vaccines and loosening of state restrictions means things are returning to normal. If your business adjusted to the challenges of the past several months by allowing employees to work from home, it may be time to consider bringing your team back together in the office.
Safety first, always
When you begin talking to your employees about returning to the office, your and their health and safety must be the top priority. As Gwen Moran writes for Fast Company, it's your responsibility as an employer to make your team feel comfortable and protected as they transition to in-person working.
Part of that, Moran suggests, comes down to communication. That means being open and transparent about safety protocols being put in place. Be as clear as possible about expectations and policies for things like wearing masks, getting vaccinated, and keeping common areas clean and sanitized.
Communication also means being receptive to answering questions and addressing employee concerns. The Cleveland Clinic's Health Essentials blog notes employees may feel, "reentry anxiety" relative to safety and social interactions. You'll want to keep this in mind when having conversations and answering questions.
Reentry anxiety is why it's also important to set a clear return date and give employees ample time to prepare. This might include a soft relaunch that allows employees to work on-site if they wish, allowing them to re-familiarize themselves with the facilities and engage with other employees in more limited capacities.
On top of conversations, it's your responsibility to follow up those talks with actions. Adhere to guidance put forth by the Centers for Disease Control and Prevention and local health agencies to ensure that you're aware of current requirements. Keep in mind the pandemic is not over and the situation will continue to evolve as time wears on.
Is a full return to the office necessary?
The term, "new normal" has been thrown around a lot in the last year, but it may hold its usefulness when it comes to the modern workplace. An increasing number of major companies are embracing non-traditional approaches to work even as employees can safely return to shared workspaces.
One example is Microsoft, which announced in March it would be moving forward with a hybrid work model. According to Microsoft Executive Vice President Kurt DelBene, the technology giant will embrace a continued mix of in-person and remote employment. This approach, DelBene notes, aligns with the company's top priority of preserving employees' physical, mental, and emotional well-being.
Microsoft is not alone on this front. Jack Kelly, a senior contributor at Forbes, names Google, Amazon, and Facebook as other massive companies embracing hybrid work models.
An employee survey conducted by human resources consultancy Mercer shows flexibility is a significant priority for employees. The firm's senior principal, Lauren Mason, told the Society of Human Resource Management's Stephen Miller the survey's findings show employees are now more willing to move on from their employers if hybrid flexibility is not an option.
Of course, the needs of large companies like Microsoft and Facebook are not that of every small business. Your business may need employees to be on-site to function at optimum levels. But if you've been able to sustain or even thrive over the last year and want to retain and attract rising talent, being receptive to continued flexibility may be in your best interests.