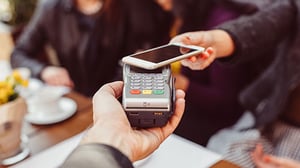 There are a lot of things to consider when you open a small business. One of the essential tools you'll need is a way to accept payment. If you're not ready to purchase or lease a whole register system, consider mobile credit card payment processing from one of these vendors.

Square

Probably one of the most well-known names in mobile credit card processing, Square is an app-based system that's compatible with Android and iPhone devices. Its name comes from its simple white square of a magnetic stripe reader that plugs into your phone's headphone jack. The company is more than a sleek look, though, with Joshua Adamson-Pickett of Business.org rating Square as the top recommended mobile credit card reader. PCMag designated Square one of its editor's choice devices, thanks to its simple pricing structure and offline mode options.

As of this article's writing, Square charges a 2.75 percent fee for swiped transactions and 3.5 percent for manually entered transactions, plus 15 cents. Your first swipe Square reader for your phone is free, and each additional reader is $10. To accept chip card payments and taps from mobile phones, a larger Square reader is $49.

PayPal Here

If you're moving from an online store to in-person sales, a good option for you could be PayPal Here. You can use the same account you accept online payments with to streamline how your business takes in money, and this option lets you process checks. Lori Fairbanks of Business.com called PayPal's service one of the best she's seen for 2019, and the app's usability made it the best Android mobile credit card processor for 2019 (though it does work with iPhones). A mobile card reader will set you back $19.99, and readers that accept chip cards start at $24.99. When you start swiping, PayPal Here collects a 2.7 percent fee per transaction, increasing up to 3.5 percent plus 15 cents for riskier keyed-in transactions.

Shopify

A good mobile credit card option, if you plan to operate your business mainly online, is Shopify. The company offers entrepreneurs like you an easy way to set up e-commerce stores online. Shopify also sells mobile credit card readers, if you decide to run a pop-up shop or head to a trade show. According to its site, Shopify will send you a free chip and swipe reader and charges 2.7 percent of each transaction when you use it. Online, that rate changes to 2.9 percent plus 30 cents per transaction. Since Shopify's mobile payment system is tied to its online store system, there is a monthly fee attached to using their products, which starts at $29.99. However, if Shopify's offer of online store creation, SSL online certificates and discount codes appeal to you, it might be worth the investment.

These are just some of the credit card processing systems available to you. Consider asking a financial advisor if you need more help making a decision.