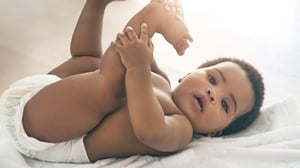 Whether you're adopting or giving birth, preparing the perfect room for your upcoming addition is a great way to celebrate the occasion. Here are nine decor tips to create a welcoming space for your baby.

Create a book display on the wall

Add some color to the walls while providing a place to store your newborn's first reading materials. Try creating a white shiplap-paneled nursery wall with three white floating shelves that display age-appropriate books.

Complement the crib with a daybed

While a crib is one of the main pieces of furniture you'll want to invest in, you might also consider putting a daybed in the room. This can serve as an extra spot in the room where you can cuddle or feed your child. You can also use it as a place to sleep on the nights when your baby is sick and you need to stay close by.

Repurpose a dresser as a changing table

If you have a small dresser on hand, consider using it for storage and as a changing table, to reduce the number of new furniture pieces you'll have to purchase. An example of this is a half-moon dresser painted a cheerful navy, topped with a changing pad. A small lamp adds task lighting while a stuffed animal and faux plant add some character.

Go with sconces

Opt for sconces instead of tabletop lamps. This will free up surface space on the dresser and side tables while still giving the room sufficient lighting. A cheerful yellow wall sconce strategically installed over a small grey shelf is a great idea (with the cord placed safely out of reach behind the shelf for safety).

Incorporate transitional decor

When styling nursery walls, go with timeless themes and patterns that will grow with your child. Create an accent wall in wallpaper that has a classic damask, stripe or floral pattern so you can go a few years without needing to makeover the room.

Gender-neutral vibes

If you're purposefully not finding out the sex of your baby, or you simply want a more gender-neutral room for your child, monochromatic color schemes work well. Try a white room with a focal wall stenciled in a charcoal gray sun and moon pattern. Light wood-framed animal artwork, a sheep mobile, some cozy crib pillows and a pale yellow blanket add muted accents to complement the light and airy feel of the space.

Mood lighting

Consider adding a dimmer switch to your baby's room. This will help conserve energy so you can lower your electric bill while providing soft lighting to help your newborn feel sleepy at night.

Elevate with monograms

Monogrammed art pieces are a great way to personalize your child's nursery timelessly. In a pink room with a brighter pink floral-print accent wall, you could place three white wood panels over the crib. Cobalt blue-painted initials adorn the center panel while the side panels have built-in light bulbs to serve as wall sconces.

Take a cue from nature

It's never too early to start cultivating an appreciation for nature. Add a forest mural in muted shades to the focal wall of your baby's room. It creates a scenic landscape that your newborn can gaze at when they're in their crib.

With a little forethought and creativity, it's easy to put together a tasteful, inspired backdrop for your child's first memories and discoveries.