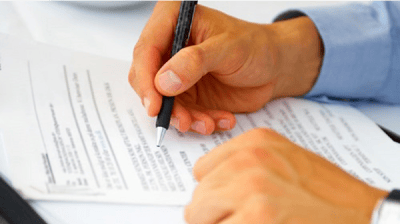 Knowing the right questions to ask while touring an apartment can help you make better decisions about where to live. Before you sign on the dotted line, make sure to ask the landlord these seven important questions.
How long is the lease term?
The average lease term is 12 months, but you don't have to rent for a full year. "Some landlords are more flexible and offer a six-month or month-to-month lease," says editor Korin Miller in an article for Time.com. If you're able to sign a longer-term lease, you may be able to get a monthly discount on the rent.
When is rent due and how do I pay it?
Every landlord and management company is different. Some places require that you pay rent by money order while others allow you to pay online. Most landlords ask that rent be paid on the first of the month but that doesn't mean you always have to pay right away. "There may be a clause in the contract offering a grace period of a few days before late fees kick in," says Trulia.com, an online resource for finding homes.
What utilities are included in the cost?
Some properties include basic utilities like water, gas, and electric in the cost of rent. Others may include only water but not electric and gas. Some landlords don't include any utilities. Make sure to clarify what utilities are included in the cost and, if any are not, investigate how much they typically cost. "Ask the landlord how much utilities typically cost for tenants, as well as whether there are any fees for amenities, and factor that in to your budget," Miller advises.
What is the pet policy?
Before you sign a lease agreement, ask the landlord if pets are allowed. Apartment policies often include restrictions on the number of pets as well as their size and breed. According to apartment-finding website Zumper.com, pit bulls, rottweilers, German shepherds, boxers, and huskies number among the most commonly restricted dog breeds in apartments.
What is the guest policy?
Apartments have varying rules for overnight guests. Landlords usually allow guests but tend to prefer defining what constitutes a guest. "Otherwise, the line between a long-term guest and a roommate can get blurry," says Trulia.com. If you plan to have guests, ask about the policy regarding visits, overnight stays, extended stays, and parking.
How much notice do you give before entering my apartment?
Writing for TheBalance, landlord expert Erin Eberlin says there are many reasons a landlord is legally entitled to entering your apartment, such as property maintenance or safety concerns. However, landlords are required to enter only during reasonable hours and must typically give at least 24 hours' notice. These requirements may be lifted for emergencies but even in those situations, "the landlord must still announce him or herself and the reason for needing access to the unit before entering," Eberlin says.
How much notice should I give before vacating?
According to Trulia.com, landlords commonly ask that you give one to three months' notice before you vacate the property. If you anticipate a fluid living situation in the future, it can be a good idea to determine how much advance notice you need to give before moving out.
With nearly 45 million rental properties in the United States as of 2021, you've got lots of options when it comes to finding an apartment. Asking the right questions can get you closer to the one that's a perfect match.