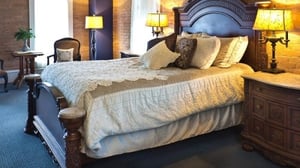 Whether you're staying in a luxury resort for a vacation, stopping over at an inn for a business trip or just getting out of town for a weekend, getting the most out of your hotel is vital. Take a look at these five tips to make your stay more comfortable, more convenient and maybe even a bit less expensive.
Book early
Similar to airlines, hotels will raise their prices as demand increases. If you're heading out of town for a big event, it's always advisable to make your reservations as soon as possible. As availability shrinks, the hotel could begin charging more for the remaining rooms.
Ask for a price match
With the internet, it's extremely easy to look up dozens of rates from multiple hotels within seconds. Many popular third-party sites offer discounts to get you to make an account with them, but you're far more likely to run into reservation issues down the line if you don't book directly through the hotel. Thankfully, most hotels are more than willing to price match any third-party site, as well as comparably priced hotels in the area.
Maximize your time
The majority of hotels offer guaranteed check-in any time after 3:00 p.m. and request that you leave your room by 11:00 a.m. To make the most of this time, you should try to show up as close to 3:00 as possible. However, many hotels have rooms available well before the listed check-in time. Give the front desk a call on the morning of your reservation to see if you can get in early. You can also request a late checkout the morning of your departure, but since extensions are first come first serve, the earlier you call, the better.
Consider a loyalty program
Hotel loyalty programs are an easy way to save money, especially if you travel frequently. Most programs will reward you with a certain number of points for each stay, meaning you can score discounted or free rooms after a number of nights. Some hotels even give guests enrolled in their loyalty program complimentary welcome bags filled with bottled water and snacks.
Tip well
It can seem like an unnecessary expense, but tipping hotel staff will encourage them to go above and beyond to make sure your stay is comfortable. Always tip your housekeepers; they'll appreciate it, and if you plan on returning to the hotel they'll make sure your room is immaculate. You should also consider tipping the front desk staff when you arrive. Since many hotels rely on front desk associates to bring things to your room like bottle openers or towels, giving them extra incentive to make you happy means you won't be kept waiting.
Don't be afraid to ask questions
It's called the hospitality business for a reason. If you've forgotten any basic toiletries like deodorant, shaving cream, razors or toothpaste, most hotels will provide them to you free of charge. You should also ask the front desk staff for restaurant recommendations, directions around the area and events going on during your stay.
Whatever brought you to your hotel, there's no reason you shouldn't enjoy the experience to the fullest. Between saving money and earning brownie points with the staff, there are tons of ways to have the best possible experience during your stay.