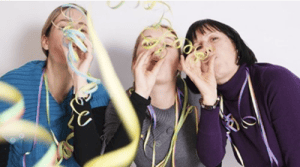 Almost everyone is familiar with films like "A Christmas Story" and "Elf." They're shown practically nonstop from December 1 to Christmas Day. But there are plenty of other movies full of heartwarming tales focused on the holiday season. The next time you're looking for something to watch with the family, consider any of these great films:
"Full-Court Miracle" (TV-G)
At first glance, a story about a group of Jewish middle schoolers paying a former college basketball star to coach their losing team may not seem like the makings of a holiday classic. However, the Disney-adapted true story of Alex Schlotsky has an important message at its core: "…not by might, not by power, but by spirit." Hanukkah is mentioned throughout the film, from Alex's excitement at possibly getting a new hard drive for the holiday to the ending when Alex and his parents are lighting the menorah while singing a prayer.
"Meet Me in St. Louis" (G)
While not necessarily focused entirely on Christmas, "Meet Me in St. Louis" is a staple in the world of musical films. The 1944 classic stars Judy Garland as Esther Smith, a St. Louis native who falls in love with the boy next door shortly before her father states that their entire family is moving to New York City before the holidays. One of the most iconic scenes is when Esther consoles her little sister Tootie by singing "Have Yourself a Merry Little Christmas," which was the first time the world had heard the now-popular holiday song.
"A Claymation Christmas Celebration" (G)
If you're looking for ultimate nostalgic silliness to enjoy this season, be sure to check out "A Claymation Christmas Celebration." The television special premiered alongside "A Garfield Christmas" in 1987 and features a variety of playful characters and songs about holiday traditions around the world. Hosted by two dinosaurs named Rex and Herb, the animated event also features the California Raisins performing a cover of the Temptations' version of "Rudolph the Red-Nosed Reindeer."
"The Star" (PG)
Inspired by the Nativity of Jesus, "The Star" premiered in 2017 and tells the iconic biblical story from the perspective of the many animals near Bethlehem. Kelly Clarkson, Kristin Chenoweth, Oprah Winfrey and Keegan-Michael Key are just some of the all-star cast providing voices for the digitally animated sheep, camels and horses in the story. The film also includes a stellar soundtrack filled with artists — like Mariah Carey, Fifth Harmony, Kelsea Ballerini, Pentatonix and A Great Big World — providing original tunes and covers of religious classics.
"Serendipity" (PG-13)
Starring John Cusack and Kate Beckinsale as star-crossed lovers, "Serendipity" starts at Bloomingdale's in New York City during the week of Christmas. As Louis Armstrong sings "Cool Yule" and hundreds of shoppers chaotically make their way through the store, Jonathan (Cusack) and Sara (Beckinsale) have a chance encounter before heading their separate ways. Over the course of the film, Jonathan desperately tries to find Sara, whom he believes he is destined to be with, just days before he is supposed to marry another woman. While this is ultimately a story of love, the film begins and ends during Christmastime and certainly sets the mood for the holidays with its warm, fuzzy feelings.
These nontraditional holiday films are available on a variety of streaming services or on DVD. Cuddle up on the couch with your loved ones, a warm blanket and a mug of hot chocolate for the perfect cozy evening.