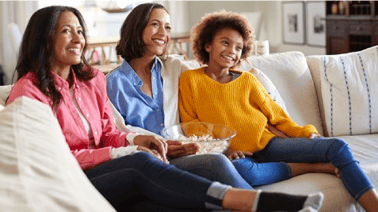 Even though Hollywood is consistently creating new films each year, it's never a bad time to familiarize yourself — and your children — with the classics. These films are sure to please anyone watching, no matter their age:
"Annie" (1982)
Many films draw inspiration from the theater, and "Annie" is no exception. The first film adaptation of the popular stage play premiered in 1982 with an all-star cast of Carol Burnett, Bernadette Peters, Tim Curry, and Albert Finney. During the Great Depression, Annie (Aileen Quinn) is an orphan living in a run-down orphanage in New York City overseen by a mean alcoholic named Agatha Hannigan (Burnett), where Annie and the other children are consistently unhappy. On the other side of the city, a businessman named Oliver "Daddy" Warbucks (Finney) is trying to improve his image by temporarily adopting an orphan, which turns out to be Annie. Even with its serious subsequent plot including con artists and felons, "Annie" is a heartfelt film for the family, featuring songs that will be stuck in your head for weeks.
"Matilda" (1996)
When movies aren't getting plots from the stage, they often turn to books. "Matilda" is based on Roald Dahl's 1988 novel of the same name and stars Danny DeVito and Rhea Perlman as the neglectful parents of the intelligent and magical Matilda (Mara Wilson). Having to take care of herself at a young age, Matilda dreams of going to school and learning even more than what she has discovered from the library books she checks out each day. When she finally gets to the school, which is run by the authoritarian Miss Trunchbull, Matilda makes a friend in her teacher Miss Honey, who immediately realizes the child's potential. Things eventually work out for Matilda, and the film teaches an important lesson about being true to who you are.
"Singin' in the Rain" (1952)
This movie musical centers around a popular silent film star named Don Lockwood (Gene Kelly). Don frequently stars in romantic films with a vain, high-pitched actress named Lina Lamont (Jean Hagen), who is convinced the pair is in love. "Singin' in the Rain" takes place right at the time when "talkies" debuted and showcases how the studio Don works for is trying to compete. Along the way, Don and his best friend Cosmo (Donald O'Connor) — who is a musical composer for the studio — meet an aspiring actress named Kathy Selden (Debbie Reynolds), with whom Don falls hopelessly in love. From a goofy song about making people laugh to the titular "Singin' in the Rain," the music and scenes of this film will transport you back in time in a beautiful, melodic way.
"The Muppet Movie" (1979)
The pilot episodes of "The Muppet Show" were initially rejected by U.S. television companies, and the series first aired on British television instead. Thankfully, the hilarious hijinks of Kermit the Frog and his friends caught on in the '70s in America, which led to the very first film starring the much-loved puppets. "The Muppet Movie" follows a talented Kermit who is inspired to make it big in Hollywood to make "millions of people happy." Along his journey, Kermit meets a variety of characters like Fozzie Bear, Gonzo, Scooter, Miss Piggy, Rowlf the Dog, Beaker, Bunsen Honeydew, and even the rock band Dr. Teeth and The Electric Mayhem. The film was well-received by critics and even earned an Academy Award nomination for Best Original Song for "Rainbow Connection."
From singing movie stars and hilarious puppets to brave children trying to live better lives, these movies are sure to entertain the whole family.