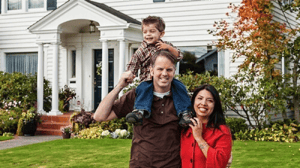 My husband Troy and I finished building our new home about a year ago. Anyone who has ever built a house knows what an exciting and stressful time it can be! There are so many decisions to be made, from flooring to cabinets, to wall colors and decorating. The process can be overwhelming. If you're struggling to feel at home inside your own house, try your hand at one of these decor ideas:
Incorporate different layers and textures
Adding multiple layers to each room is a simple way to warm it up. To do so, simply layer a rug over the carpet, two rugs over top of each other or a variety of pillows on the couch. Plus, on your dining room table, place a quilted runner under your centerpiece to make meals more comfortable. Including two contrasting elements, such as glam and rugged, also adds warmth while showing your personality.
However you decide to add layers, make sure to utilize different textures to create a welcoming environment. A shag rug looks as soft as it feels, so be sure to add one in your living room. Include knitted materials, like pillows, blanket or coasters, in as many rooms as possible for extra coziness. In the bedroom, place a soft-to-touch throw blanket at the foot of the bed, or opt for a velvet headboard.
Implement soft lighting
The type of light fixtures in your house has a significant effect on the overall atmosphere. To make your home as comforting as possible, incorporate soft lighting throughout by having warm LED bulbs. Utilize these bulbs in overhead fixtures to brighten up an entire room, and in string lights hung outside or along your walls.
A fireplace, whether it be built-in or portable, cozies up a room in any situation. If you don't have a fireplace, spreading a few candles around is an easy way to warm up a space, especially when surrounding the candles with natural elements, like pine cones. In addition, lined or thick drapes maintain an ideal temperature in your home, while also controlling the amount of natural light that comes in.
Pick the right colors
When furnishing your house, it's important to choose colors that are conducive to a welcoming environment. Utilize pieces in warm colors, such as chestnut and gold, as well as warm woods. Pair these pieces with fabrics in jewel tones, like emerald green and sapphire blue. To pull the whole look together, be certain to add a pop of color in each room. Whether you include a bright rug, pillow or chair, it's sure to make a statement and make your home more pleasant.
Combining brass furniture with pastel fabric is another way to create a relaxing space. Hang up warm-hued pictures to add another dimension to the living room, or put up art pieces to turn a bare wall into an eye-catching area. If you prefer more muted tones, complement them with potted plants or a leather item.
No matter the season, these decor ideas bring warmth into your house and make it easy to unwind. Put them to the test when you're ready to revitalize your living space and feel at home the moment you open the front door.
Ready to buy your next home? Contact one of our loan officers today.