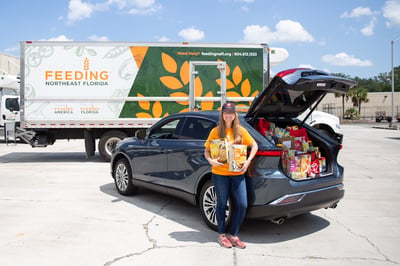 For tens of millions of people in the U.S., a daily meal isn't as simple as deciding what to eat. According to the non-profit organization Feeding America, it is often a choice between food and other crucial needs—like medicine, electricity, or childcare.
To help build awareness, the organization launched Hunger Action Month, held each year in September. During this annual campaign, people are encouraged to donate, fundraise, and volunteer to help end food insecurity in America.
First Federal Bank Marketing Manager Caron Streibich of Jacksonville answered the call. She recently partnered with Feeding Northeast Florida, part of the Feeding America family, along with Toyota and local grocer Winn-Dixie, to help feed families in her area. For nearly 240,000 individuals in Northeast Florida, hunger is a year-round reality.
"Feeding Northeast Florida is near and dear to me because it serves so many non-profits, many of which I've volunteered with – like the Sulzbacher Center for the Homeless," said Caron, Marketing Manager at First Federal Bank. "It is hard for me to comprehend one in six people in my area experiences food insecurity, and may not know where their next meal will come from. I wanted to be able to help somehow, while also spreading the word about this great non-profit."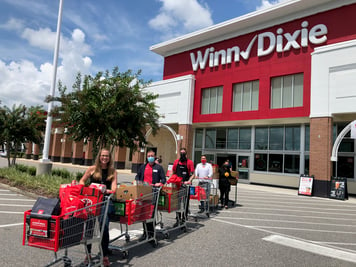 Toyota and Winn Dixie each donated $1,000, and Toyota sent Caron a 2021 Venza hybrid to take on a shopping spree and fill with food. Caron drove the vehicle to an area Winn-Dixie armed with a detailed grocery list provided by Feeding Northeast Florida. Her mission? To purchase canned and boxed goods that could be packaged into family-style Thanksgiving meal boxes.
"Hunger Action Month is a time to come together as a community and take a stand for our neighbors experiencing food insecurity," said Heather Gosendi, Director of Marketing and Communications with Feeding Northeast Florida. "We knew Caron would be the perfect person to help bring our community together for this cause, and are grateful to her and our partners for their generosity and support!"
Feeding Northeast Florida is able to stretch its dollars by partnering with organizations for discounted food. Caron stretched the funds she had received by focusing on store brand items and using her personal Winn-Dixie rewards card to save money.
Buying $1,000 worth of groceries was a daunting task! Caron and a friend filled eight shopping carts with everything from boxed whole grain cereal, to canned fruits, meats, and vegetables. She also added boxes of spaghetti noodles, large jars of sauce, pancake mix, and rice. After ringing everything up, Caron and her friend, with the assistance of employees from Winn-Dixie, loaded the Toyota Venza to the brim with bags of food.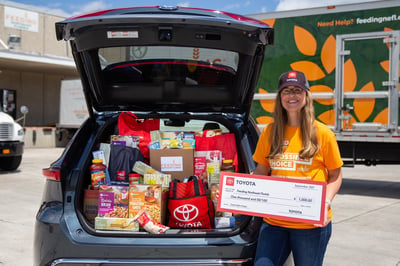 Everything was then delivered to Feeding Northeast Florida, where a team immediately began making family Thanksgiving boxes, later to have a fresh turkey added. Caron also presented a ceremonial check to Feeding Northeast Florida from Toyota, and a $1,000 match in gift cards from Winn-Dixie, ensuring families in the area will be well fed for the upcoming Thanksgiving holiday.