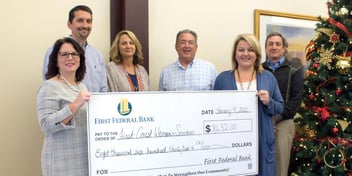 At First Federal Bank, we understand the positive impact an organization can have on a community. We are passionate about giving back because we take our responsibility to reinvest in our communities seriously. In 2020, First Federal supported special projects for after-school programs, intellectual and developmental disability agencies, temporary housing agencies, sports programs, various school-related programs, and more across 15 counties in Florida and South Carolina.
We truly care about supporting the cities and towns in which our customers and employees live and work. That is why First Federal has developed four different ways to make donations to charitable and community organizations:
Community Rewards Program - With the Community Rewards Program (CRP), our customers help us donate to specific projects when using their First Federal debit card. In 2020, we committed $47,000 to local organizations through the CRP program. One recipient was the Holmes Council on Aging, Inc., which provides community care to seniors in Holmes County, Florida. With funds received through First Federal's CRP program, the organization was excited to purchase a new ice machine.
First Federal Way - Through the First Federal Way payroll deduction program, our employees are able to direct a portion of their paychecks to charitable organizations, with a match contributed by our Board of Directors that doubles the impact to these agencies. Amidst the challenges of 2020, First Federal employees donated over $109,000 to 40 local non-profit organizations! Judy Webber of First Coast Women's Services says, "Our work is only possible because of the contributions we receive from generous donors like First Federal Bank."
First Federal Foundation - The First Federal Foundation was established as a way for our organization to support community and economic growth on a larger scale. To date, $3.6 million has been given in support of affordable housing, artistic and cultural projects, and human and social needs. Donations made in 2020 totaled $53,000, including a gift to Family Promise of Gainesville, Florida. That donation helped renovate two apartments for in-transition homeless families.
Community Contributions - The final way First Federal supports the areas in which we live and work is through Community Contributions. These are direct gifts made from a designated fund each year with guidance from our Commercial, Community Banking, or Residential Lending teams. Nearly $115,000 was donated in 2020, including a Gold Level Sponsorship of the Florida Sheriff's Youth Ranches, Inc. The program supports at risk youth through counseling, education, health and resident care.
First Federal is proud to have bolstered our local communities during a challenging year with close to $324,000 in donations. But giving back is more than simply a financial commitment. Investing in the areas where our customers and employees live and work is a calling.
Our employees desire to see their hometowns flourish, and help make that a reality by building outstanding schools, successful businesses, and vibrant neighborhoods. First Federal employees volunteer their time, sit on boards, and always look for ways to help their communities. Because together, we are stronger!