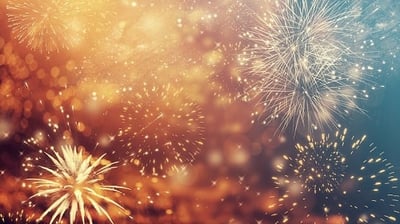 New Year's brings a conscious effort to restart many aspects of your life, including your financial portfolio. Starting off the new year with a solid, thoughtful approach to your current finances and a thorough plan for your finance goals can reap amazing results in 12 months. Here are a few financial resolutions to consider for 2023:
Get the big picture to understand your financial situation
It's hard to move forward without knowing what you're moving forward from. In other words, you need to know your net worth down to the penny before you can determine how to handle your current funds, what goals to set, and bigger dreams you can set in motion.
"It's a good idea to recalculate your net worth each year. Doing so can help you keep on top of your progress toward your financial goals and correct any mistakes you're making before they create overwhelming debts," according to Andrew Schwartz, writer for Investopedia.com.
Expand your knowledge
Staying on top of your personal finances is essential for short-term and long-term growth. And, by taking time to expand your knowledge of changing financial markets and focus on economics, you can further bolster your financial acumen. "You can do this by researching online, taking classes, or reading financial books," advises Miriam Caldwell, writer for TheBalanceMoney.com.
Keep tabs on your financial activity
Sometimes things go wrong and mistakes happen. Discrepancies on your credit report, though, can only be corrected if you're aware of the problem. That's why it's so important to review your credit report regularly.
"Now that you're entitled to three free credit reports each year, there is no excuse for not reviewing what is one of your most important financial reports, especially since errors in these reports are not uncommon," Schwartz reports.
Start or continue to build your investment portfolio
Smart investments give your money an opportunity to grow much faster than what an interest rate on a savings account can deliver. However, be sure to take caution when choosing what stocks to invest in, as there is an inherent and often unpredictable risk attached to the market.
"Stocks are considered riskier than bonds but they also offer higher returns than bonds. If you're unsure of picking stocks, you may consider investing through mutual funds or exchange-traded funds that allow you to pool your money with other investors and get shares in a portfolio of investments," according to Caldwell.
Opening up a 401(k), IRA, or Roth IRA earmarked for your retirement is a great way to focus your investment dollars, too, she adds.
Tackle debt and outstanding bills
Another way to realize your financial goals and build a nest egg or invest in a life-changing purchase like a mortgage is to whittle away your outstanding debts. Any debt can be intense, but there are many strategies you can use to help pay it down.
According to Karen Bennett, writer for Bankrate.com, "two common strategies are paying off your highest debt first (the debt avalanche method) and paying off your smallest amount of debt first (the debt snowball method)."
Add these financial resolutions to your new year's plan to help ensure this is the most profitable one yet!